Bathroom furniture
Refine Search
---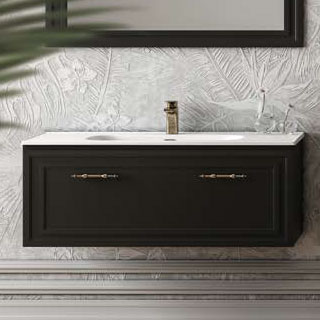 Bathroom furniture is essential for a comfortable life. This category includes tables, cabinets, shelves. All of these items serve to conveniently place hygiene items so that everything you use is always at hand. Also, in the bath, you cannot do without a mirror: it must be large and well-lit.
How to choose
Bath furniture should be functional and beautiful. When choosing, take into account the following parameters
Dimensions so that each element fits well into the room, and the internal area is enough to compact and conveniently place all the accessories.
Appearance: shape, color, decor of each product. Bathroom furniture should be chosen in such a way that it is harmoniously combined with plumbing fixtures, finishes (color and texture of walls, floors, ceilings), and accessories.
To buy bathroom furniture for every taste is offered by the ROSAKS GROUP company. In the catalog you will find mirrors, wardrobes, cabinets of various styles: from timeless classics and fashionable minimalism to bold and original modern design solutions.
Also in our store you can purchase bathroom furniture wholesale on favorable terms. We offer only high-quality luxury products from trusted manufacturers.