Bathroom furniture and sinks. Types and features.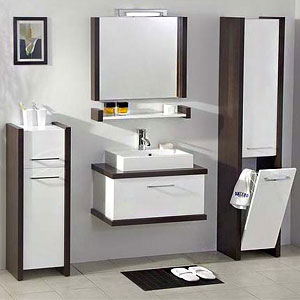 The aesthetically and culturally rich arrangement of one's home is becoming more and more relevant for a modern person. This approach to its space gives the owner moral inspiration and pleasure from being at home. Each corner has its own purpose and influence. For the greatest comfort, most people try to choose furniture for the room individually according to their tastes and preferences. So, a special place in our life is occupied by a bathroom and, accordingly, bathroom furniture.
Convenient and practical sinks placed in the corner, they significantly reduce the amount of space. Buy furniture for a bath of this type is preferable for small rooms. In particular, they are convenient in public places where everything should be compact, but at the same time convenient and civil. The shape, depth and other characteristics of such sinks can also be different, the quality, functionality and practicality do not change from the place of placement.
You can buy bathroom furniture at any time, but you should be careful when choosing it, because the service life and satisfaction from the result of installations and resales will depend on this. The Timser company, in turn, guarantees the receipt of high quality products from trusted Turkish and Italian manufacturers, who have long proven their work and products provided. Cooperation with Timser is confidence in the received product at the best price and offers.

Types of ceramic sinks in the bathroom
In the process of making modern sinks (sinks), several types of ceramic materials are used. Often, a composition with water-repellent properties is applied to the surface of the finished product. Due to this composition, water is repelled from the surface and does not penetrate into the inner layers of the ceramic.
The highest quality materials are used in the manufacture of all products presented in our catalogs. Therefore, the surface of bathroom sinks is absolutely smooth, without visible pores and with low tension (see our photos). The Turkish sinks we sell will not develop limescale, rust or scratches even after several years of daily use. If you wish, you can purchase sinks from us in bulk and small wholesale.
What is the difference between faience and porcelain sinks in the bathroom?
Quality bathroom furniture should be in every modern home! Now, in an era of global progress and innovative discoveries, no one uses outdated washbasins, from which they previously had to wipe away dirt and rust for hours. Now almost every bathroom has a modern ceramic sink that meets all quality standards. Don't you have it yet? Hurry to our catalog, see photos of ceramic sinks and make your choice!
Nowadays, the most common sinks are considered to be sanitary ware and sanitary ware variations - in other words - ceramics! They are united by two excellent physical properties - hygiene and low water absorption. Sanitary porcelain is considered a more durable and durable material, since it has a porous structure.
Ceramic Turkish sinks are the best in their price segment! Hurry up to make the RIGHT choice!