Bathroom sinks: varieties, features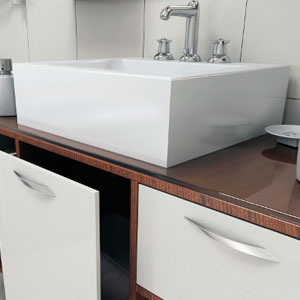 Bathroom sinks on the modern market are represented by a huge selection. It seems that it is not difficult to find an option that suits all characteristics, will become an organic part of the interior. Your bathroom cannot boast of extra square meters? The best way out of the situation would be corner washbasins for the bathroom. For an interior in a classic style, in a modern or high-tech style, an overhead sink will be an excellent option, that is, a sink on the countertop - today it is not difficult to find overhead sinks for the bathroom that will organically fit into any interior style, will be an excellent addition for furniture of any color, from any material and so on.
Conventionally, all bathroom sinks can be divided into several groups depending on their purpose and design. It is a corner washbasin for the bathroom, it is a sink under the countertop, it is a mini-washbasin, it is a sink for furniture. The last option is complemented by a very important element - we are talking about furniture for the sink, which together with the washbasin makes up a holistic and organic duet.
Actually, the above is not a complete list of types of washbasins, but only the most popular and in-demand solutions today. If you wish, you can find an original bathroom washbasin with some special features. For example, it is not difficult today to buy a washbasin for a washing machine - such bathroom sinks are designed and manufactured in a special way: you can place a washing machine directly under the washbasin - an ideal solution for small bathrooms.
Also, bathroom sinks can be divided into groups depending on the materials from which they are made. And the materials can be used very different: metal, glass, ceramics, artificial or natural stone. Each of these materials has both its advantages and disadvantages, which must be considered when choosing.

For example, metal bathroom sinks can boast durability, strength, hygiene and good looks, but they are also characterized by low resistance to abrasive cleaning agents and low sound absorption.
Glass washbasins for the bathroom look original - photos on the Internet will allow you to appreciate all the attractiveness of such interior items. At the same time, the external fragility of glass products is deceiving - breaking a glass sink will not be any easier than, for example, a sanitary ware.
Stone sinks are worthy of special attention. If we are talking about natural stone, then onyx, granite, marble can be used. Such interior items look luxurious, but, firstly, the price for such washbasins for the bathroom is very high, and secondly, the surface made of natural stone includes a large number of micropores into which dirt will clog.
In general, if you do not want to spend a fortune on a washbasin and spend most of your time cleaning the surface of the sink, but you are attracted by stone products, take a closer look at artificial stone sinks - in appearance they practically do not differ from natural stone washbasins , and at the same time they are cheaper and easier to care for.
But ceramic sinks have remained classics for decades. If you decide to buy a ceramic bathroom sink, you can count on reliability, hygiene, and attractiveness. Prices for porcelain washbasins for the bathroom are slightly higher than for faience counterparts.
It is not so important what exactly you are interested in, the countertop sink for the bathroom or the ergonomic washbasins for the bathroom, the dimensions of which are very small, on our website you will certainly find something that will fully satisfy your requirements. We offer a huge selection - classic and original washbasins for bathrooms - photos will help you make the right choice. If necessary, our consultants will answer all your questions.
And, of course, we cannot ignore such a factor as the price of washbasins for bathrooms - you can hardly find such models somewhere cheaper than ours.
It is in your power to make your bathroom comfortable, cozy and beautiful. And we will help you with this!